Justine F
Product Designer | UX Designer
native mobile medical records
mobile patient chart access
project overview
project role: ux and ui designer, prototyping, wireframing
tools: figma, adobe xd, sketch
duration: 36 months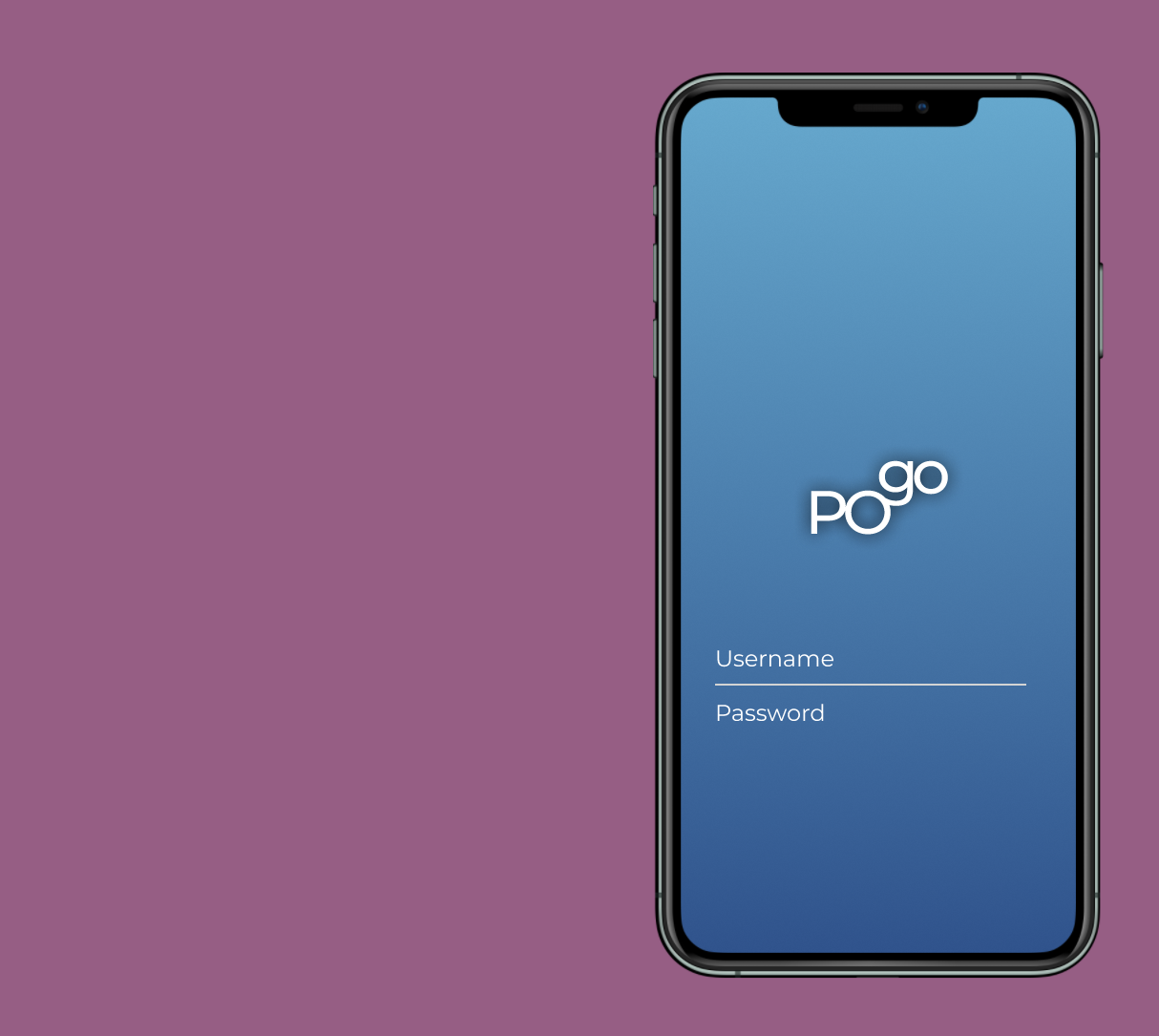 what is POgo?
POgo is a native mobile app for prosthetists and orthotists in the healthcare industry. POgo gives practitioners the ability to complete an off-site appointment, mimicking an in-clinic experience for the practitioner and the patient, while providing patient chart access at the fingertips.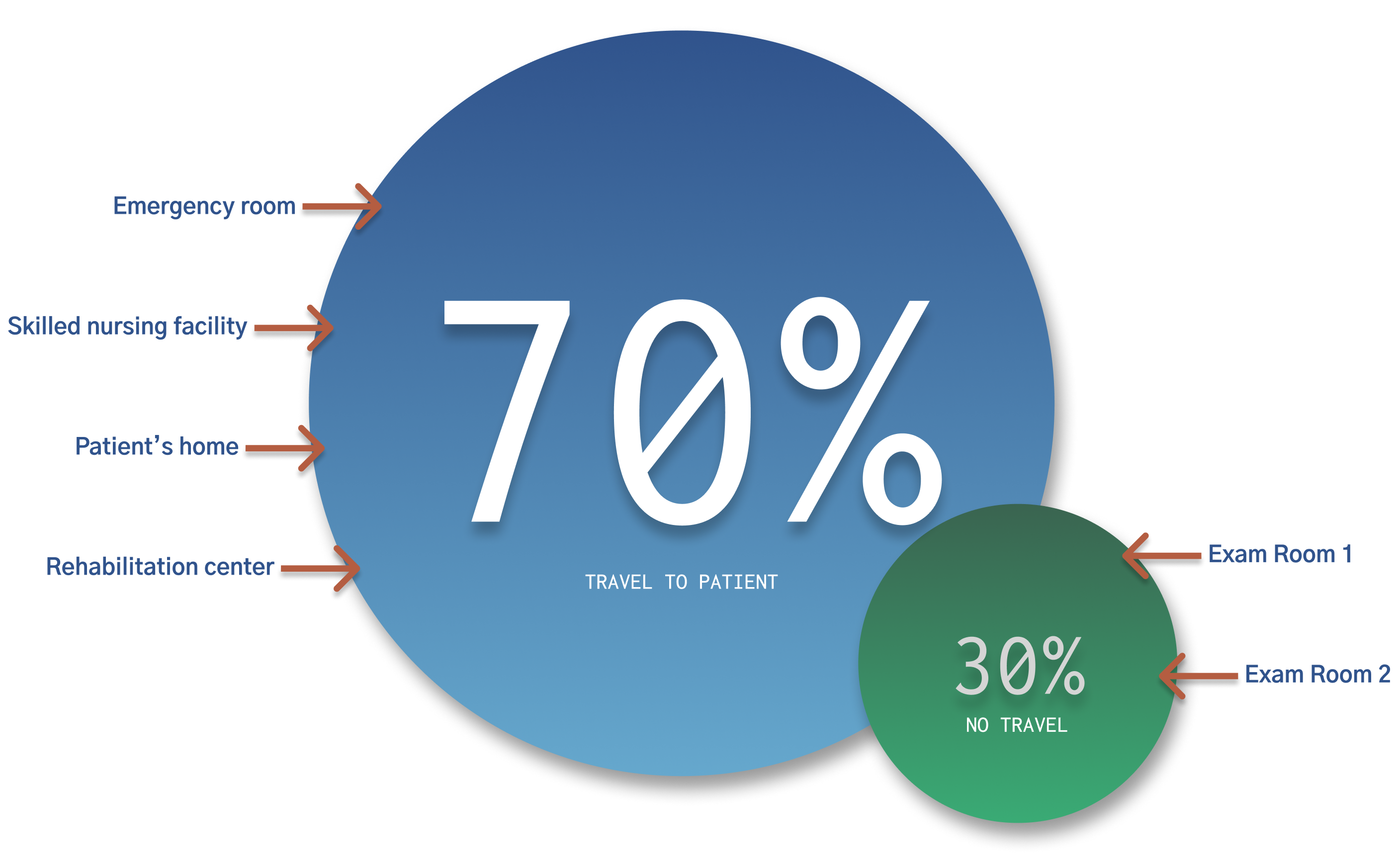 how much travel?
all patients seen by prosthetic and orthotic practitioners are in need of prosthetic limbs or orthotic devices.
that means 100% of the patient base is disabled and initially immobile.
prosthetist and orthotist practitioners travel to see majority of their patients for their appointments at hospitals, skilled nursing facilities, rehabilitation centers, or their patient's homes. these appointments make up 70% of the patient base.

exam rooms in-clinic are for patients who have follow-up appointments after their devices have been delivered to them for fittings or adjustments. these appointments make up 30% of the patient base.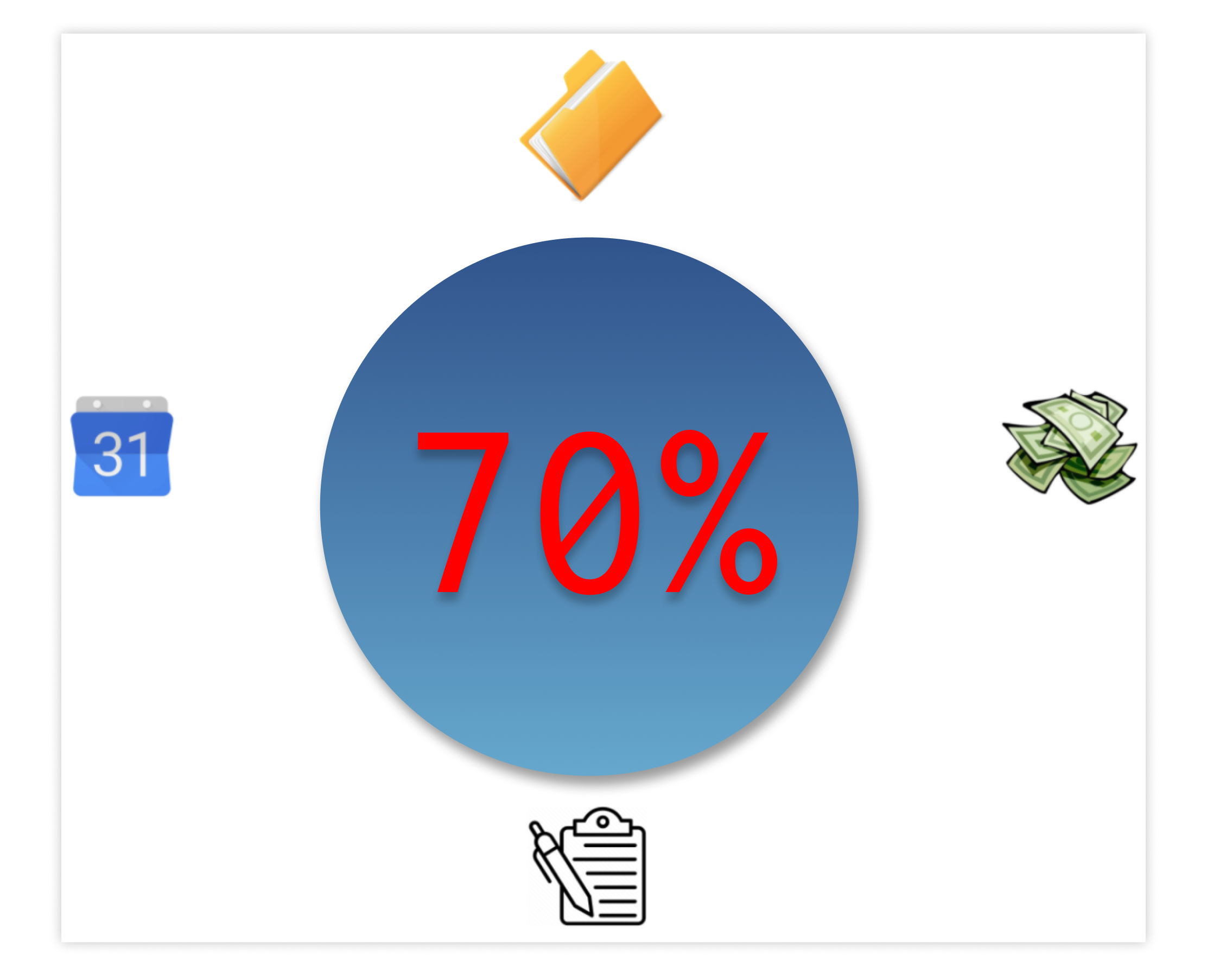 70%, so what does that mean?
this means 70% of patient appointments, practitioners don't have access to:
patient's chart notes

scheduling capabilities

patient's physician notes

insurance information

a way to complete their appointment office visits
this also means 70% of all invoices are at high risk of claim denials due to insufficient chart notes.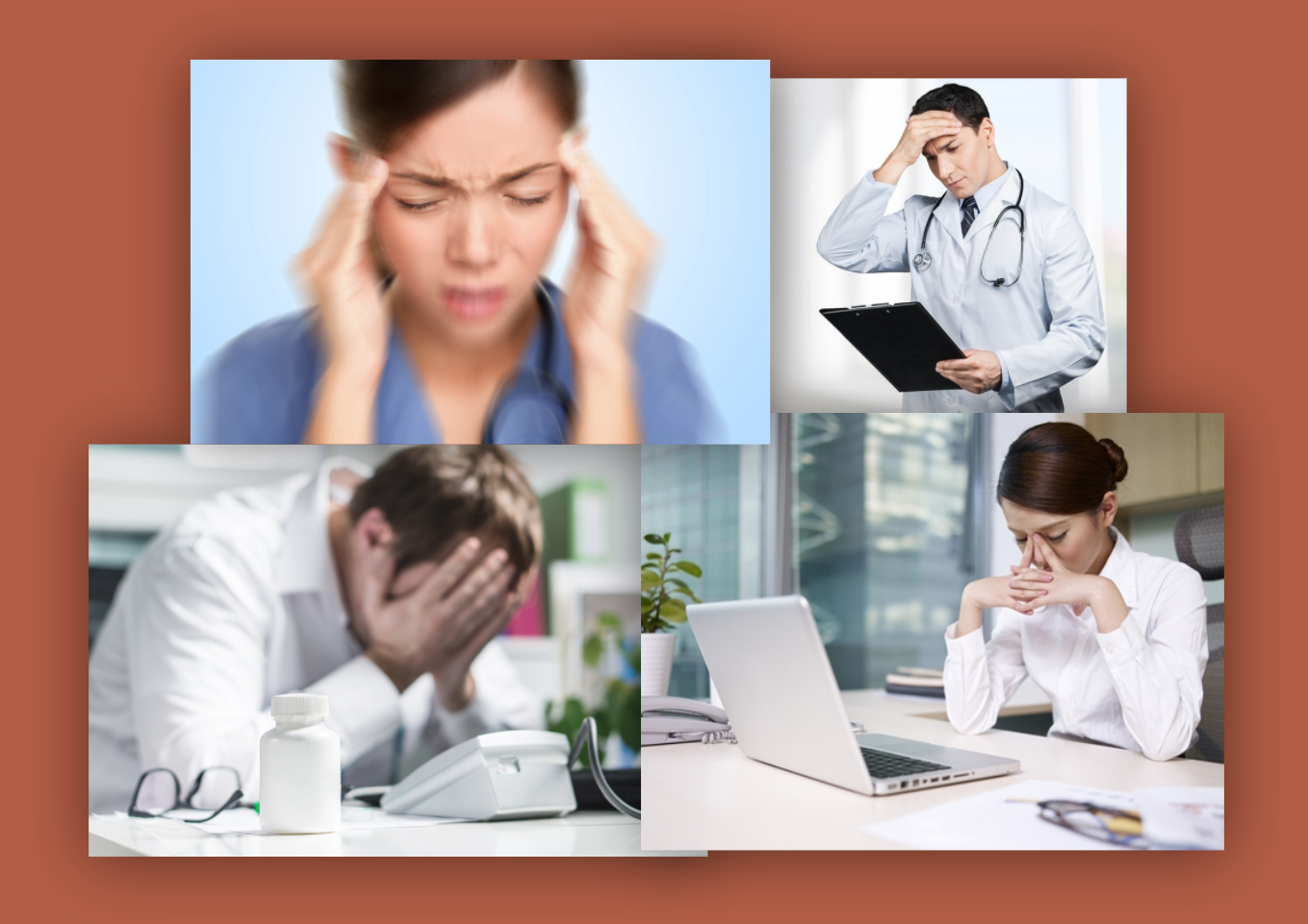 impact of convenience
carrying hard copies of paperwork/assessments

losing paperwork

time management

insufficient progress notes

missing documents

growing queue of invoices

untimely submitted invoices
impact of efficiency
incomplete assessment of appts

forgetting details of appt

missing progress notes

delay in billing

delay in revenue

insurance claim denials

missing information during audits and appeals

no supporting factors for medical necessity
practitioners are frustrated about having insufficient progress notes because they have no patient chart access.
prosthetic & orthotic software
competitive analysis
brightree
cloud based P&O EMR software with focus on minimizing billing errors. not customizable for practitioners. no charting system.no mobile capabilities.
VALUE: OPTIMAL BILLING FEATURES WHICH ARE GOOD FOR THE BUSINESS
opie
P&O EMR software with focus on customizable features for practitioners and medicare guidelines. not cloud based. no mobile capabilities. large error margin for billing.
VALUE: OPTIMAL PRACTITIONER FEATURES WHICH ARE GOOD FOR THE TARGET USER
medflex
P&O system with no internal storage for medical records. not suitable for chart notes or uploading shared documents.
VALUE: COST EFFICIENT SOFTWARE, MINIMAL FRAMEWORK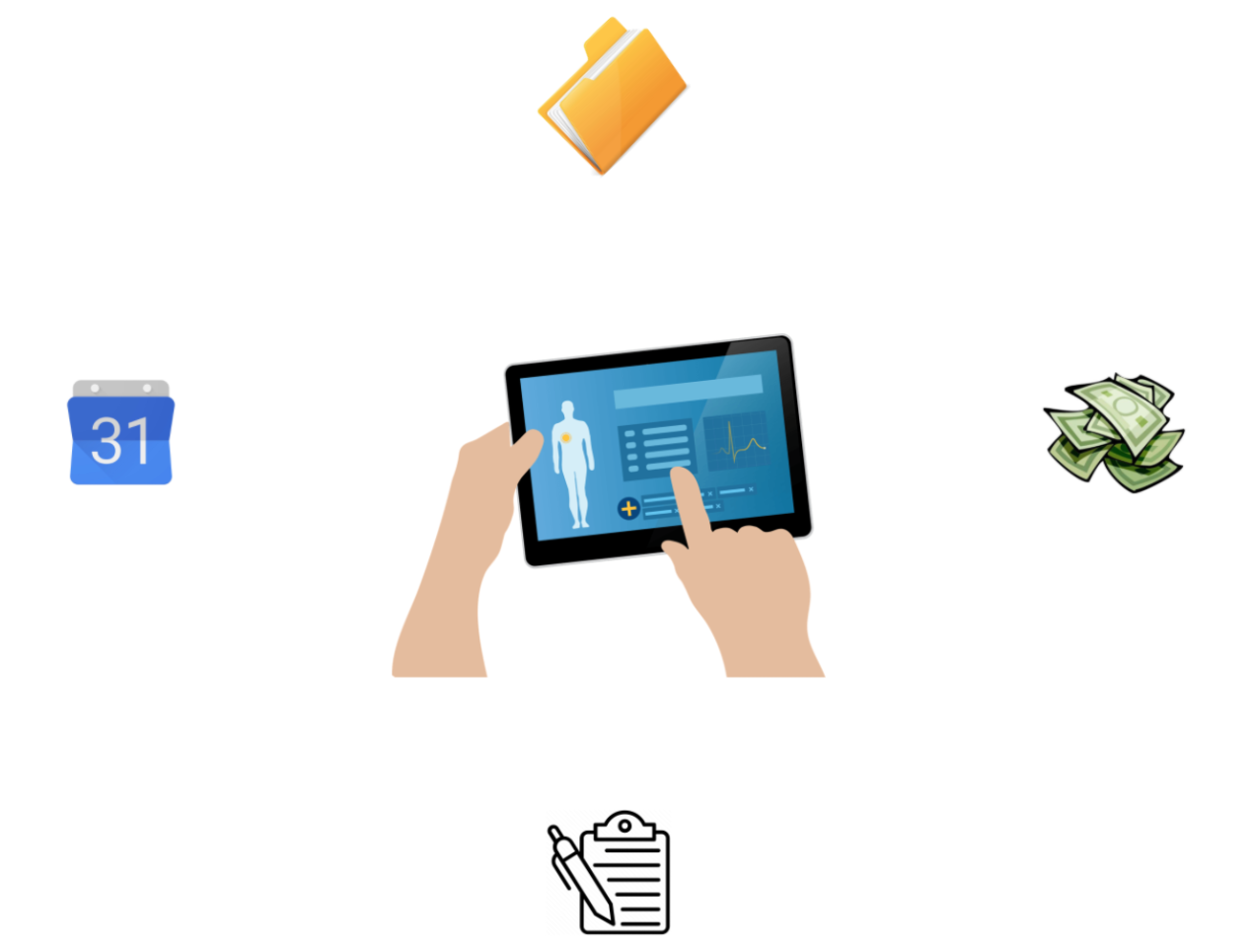 POgo is a native mobile app EMR software focused on billing errors, customizable features for practitioners, focused on creating a convenient and efficient appointment experience for both the patient and practitioner.

you down with MVP?
since we know users need to improve efficiency to complete their appointments, we were able to prioritize key features based on user research:
patient records access

scheduling capabilities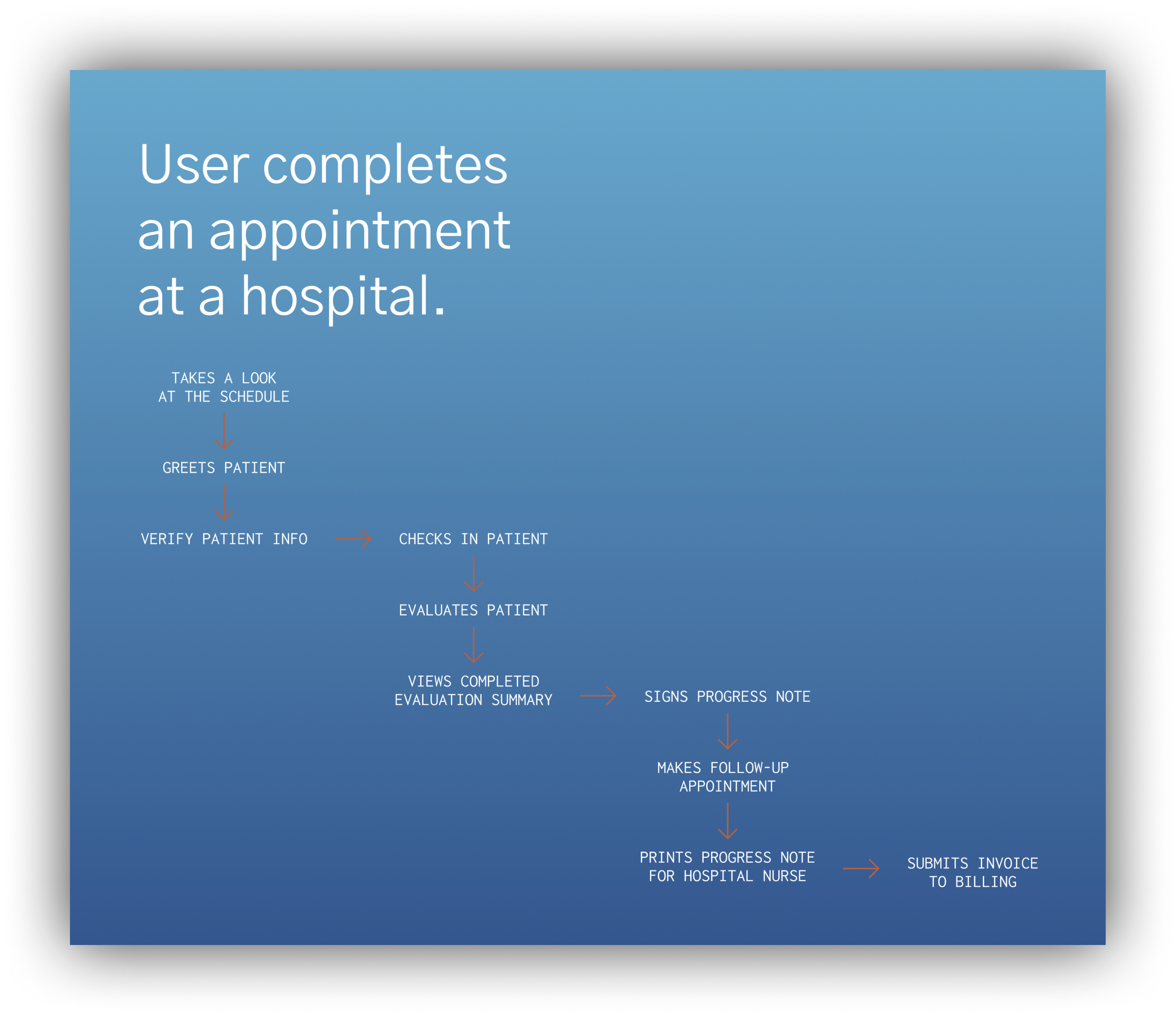 user flow
the optimal experience for the user is to be able to check in a patient, verify their information, complete a thorough evaluation, and to schedule their next appointment.
in addition to the necessary capabilities and access to the patient chart, the user is able to sign their progress note, print out progress reports, and submit invoices to billing.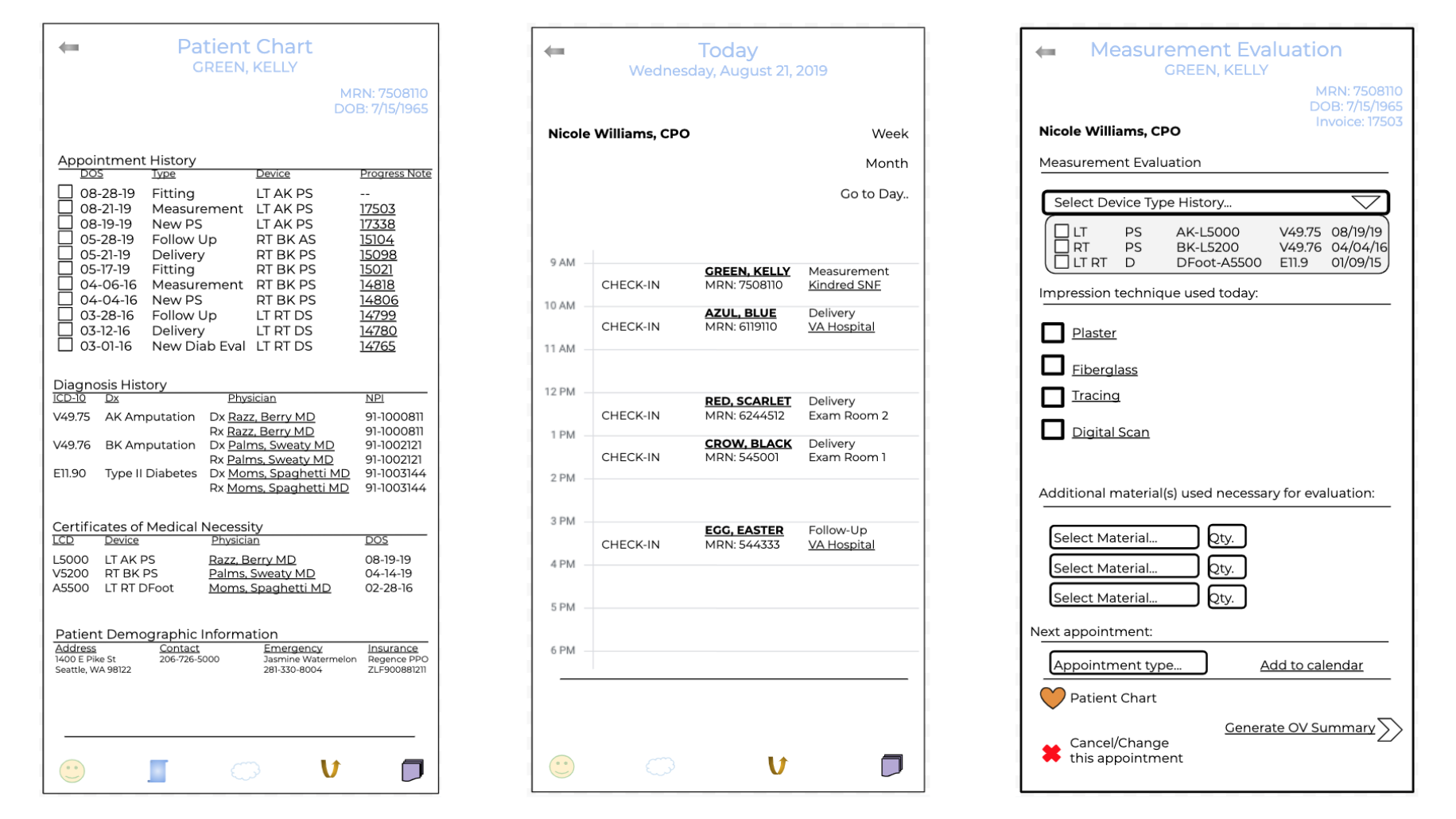 UI
it was important to create patient chart and scheduling access to practitioners on the go.
practitioners conveniently have access to appointment history, diagnosis history, previous documentation or chart notes from previous physicians who diagnosed and treated, and patient demographic information.
scheduling shows patient name, appointment type, and location of appointment. this allows the practitioner to efficiently plan their day.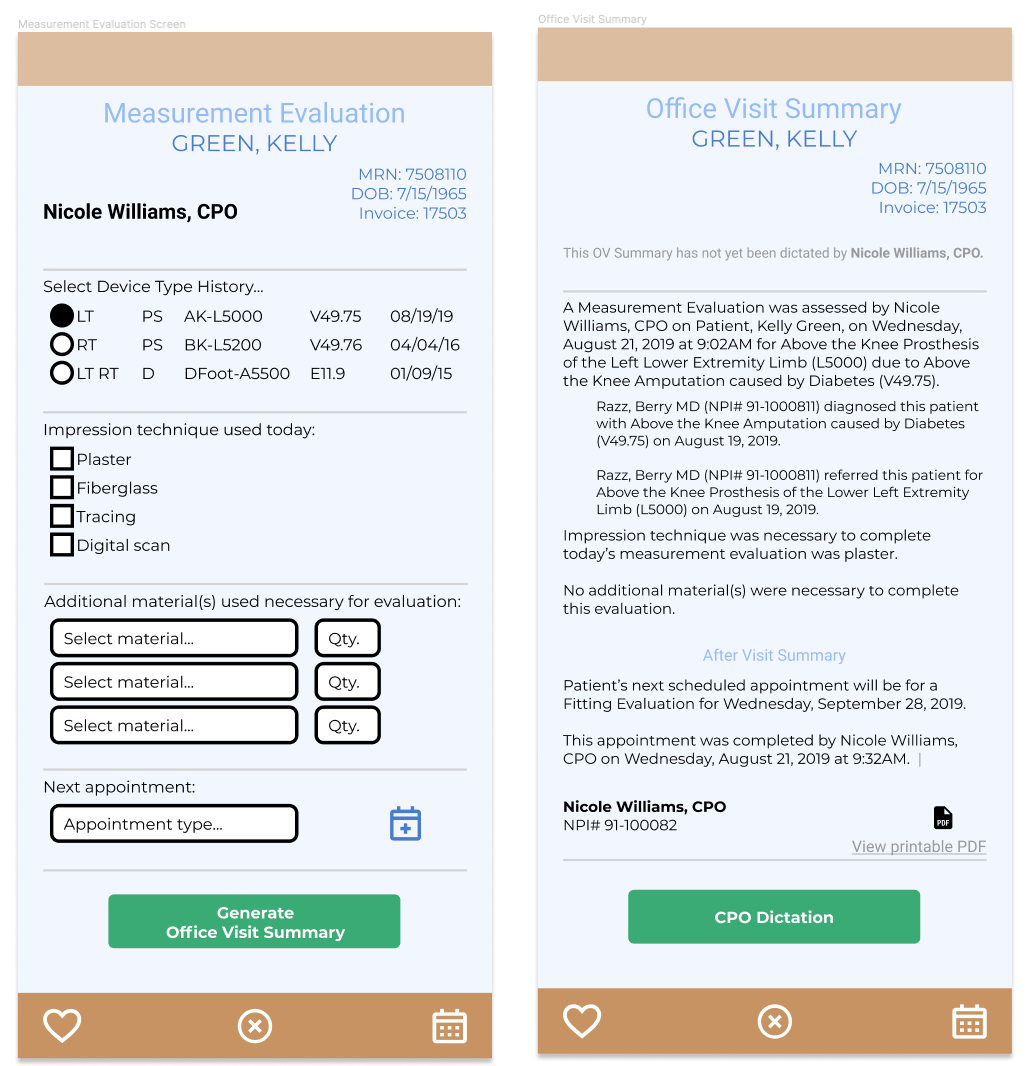 more
convenience + efficiency
TEMPLATE FEATURE


practitioners do not have desktops to type out their evaluations while with patients. templates include selectable cards, radio buttons, drop down lists, and checkboxes.

AUTO-GENERATING OV SUMMARY


patients can be given office visit summary print-outs as soon as their appointments are finished. these ov summaries are generated from the template that is specific to the appointment type.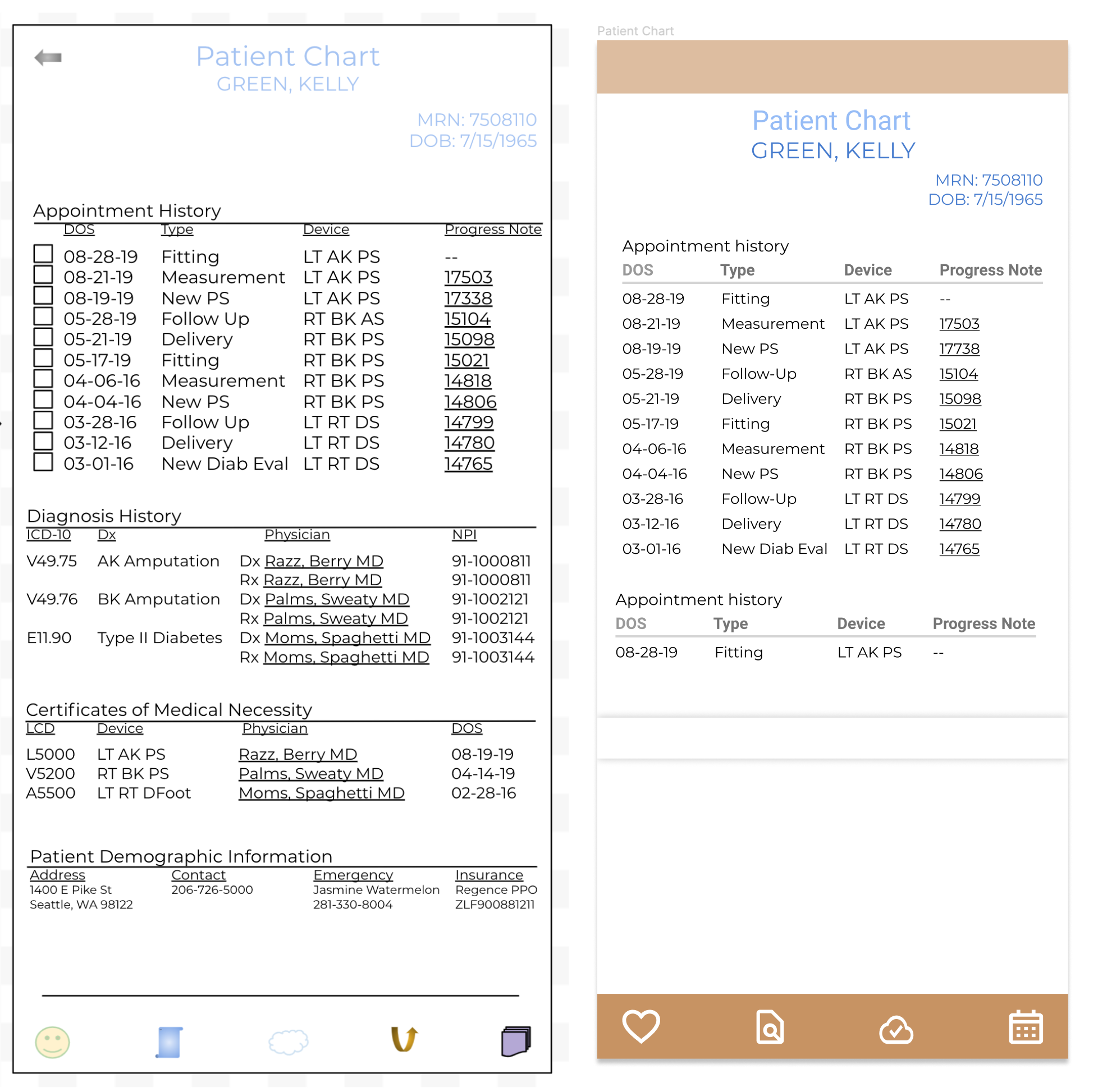 usability testing pt. 1:
mid fidelity
the patient chart access feature the MVP and highest priority so we wanted to make sure it was intuitive and actually convenient for practitioners.
through running usability testing in the mid fidelity wireframe stage, we found that access to progress notes were a little difficult for practitioners as each line from the appointment history was too short.
the solution for this was to
create separate screens for medical records and patient demographics

increase line height for all accessible attachments

add icons for intuitive navigation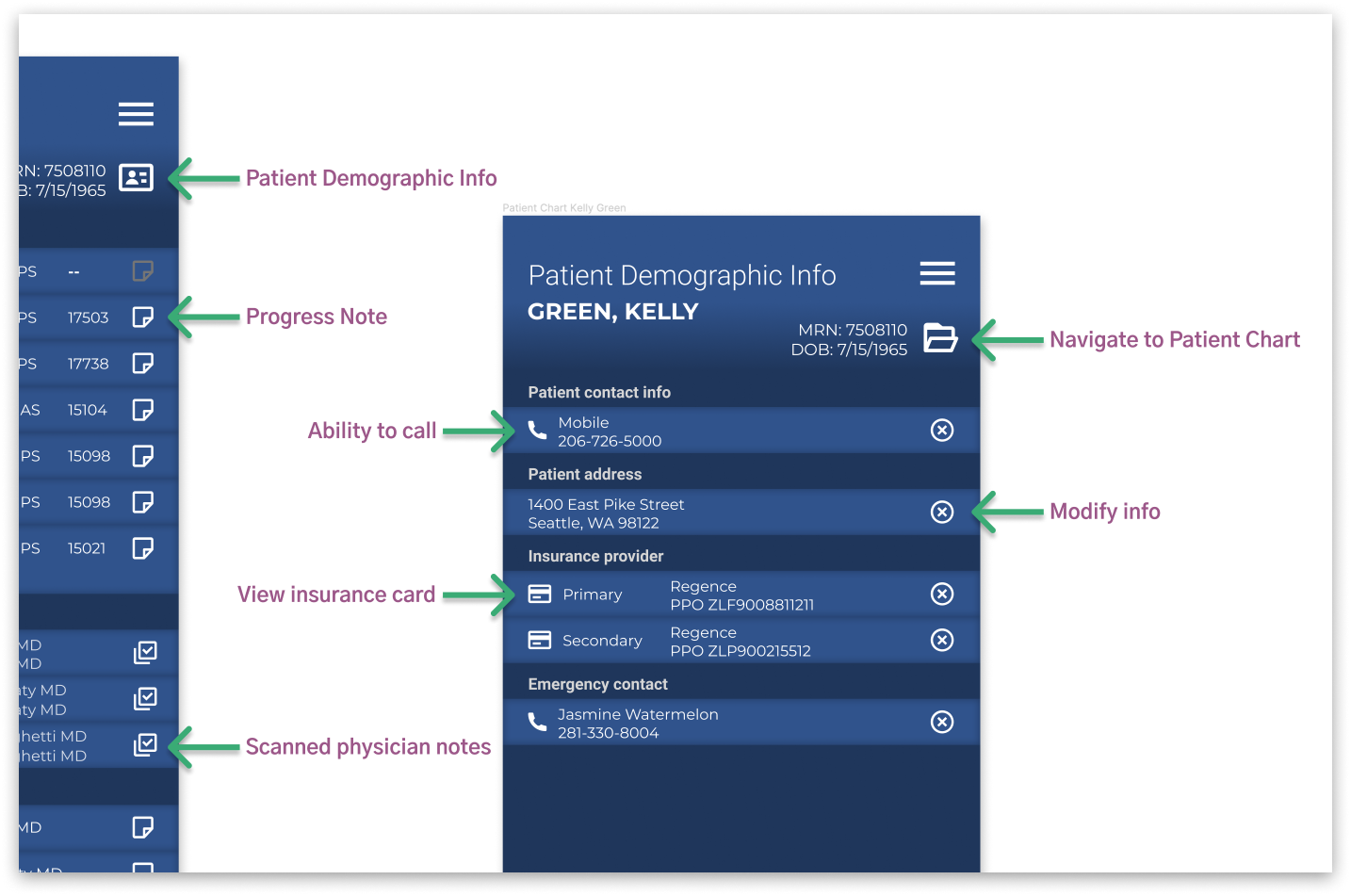 usability testing pt 2:
hi fidelity
usability testing concluded ease of use with increase of line height for each component, icons were intuitive and implied attachments were accessible, top right corner with demographic icon navigates to patient demographic info screen, patient chart icon leads to patient chart access.
prototype
Interactive prototype that goes through scheduling, patient chart access, evaluation, and dictation.